Create and remotely operate live graphic overlays, including social media content and audience participation, for live streaming, remote productions and venue screens.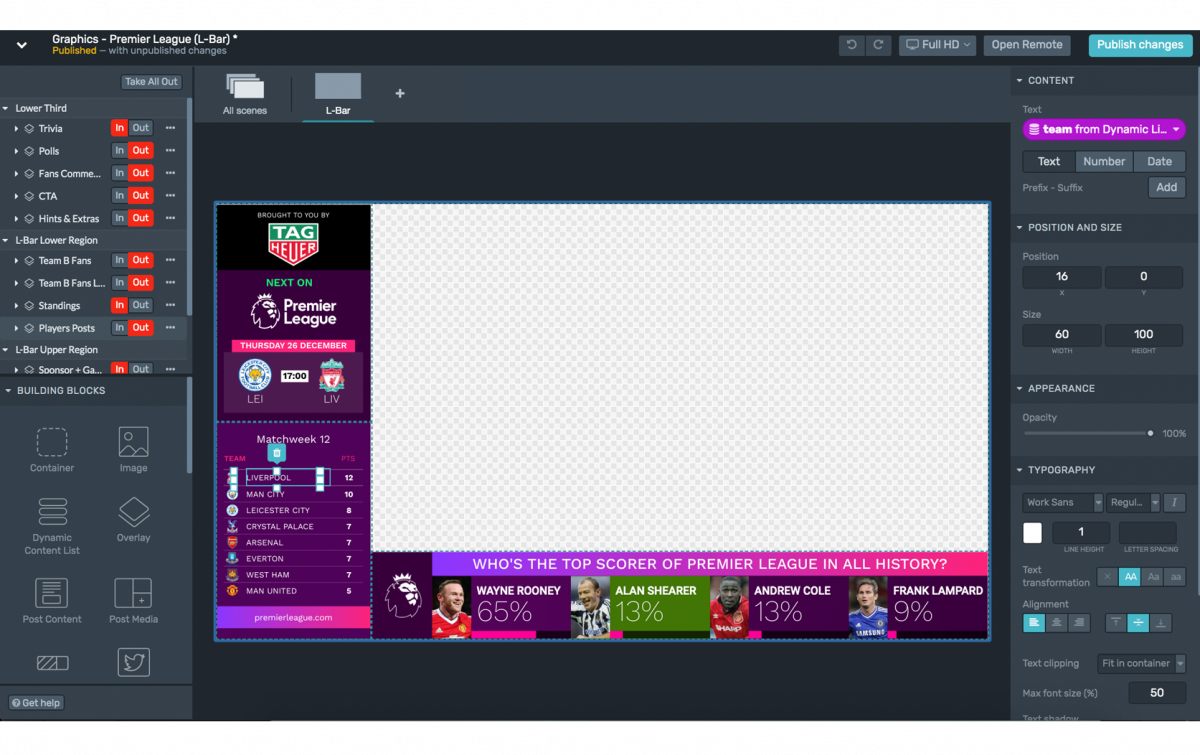 WEB-BASED EDITOR
Web-based editor to create and customize graphic overlays. Lower thirds, fullscreen graphics, crawlers, tickers, etc. Easily integrate social media content and viewer engagement.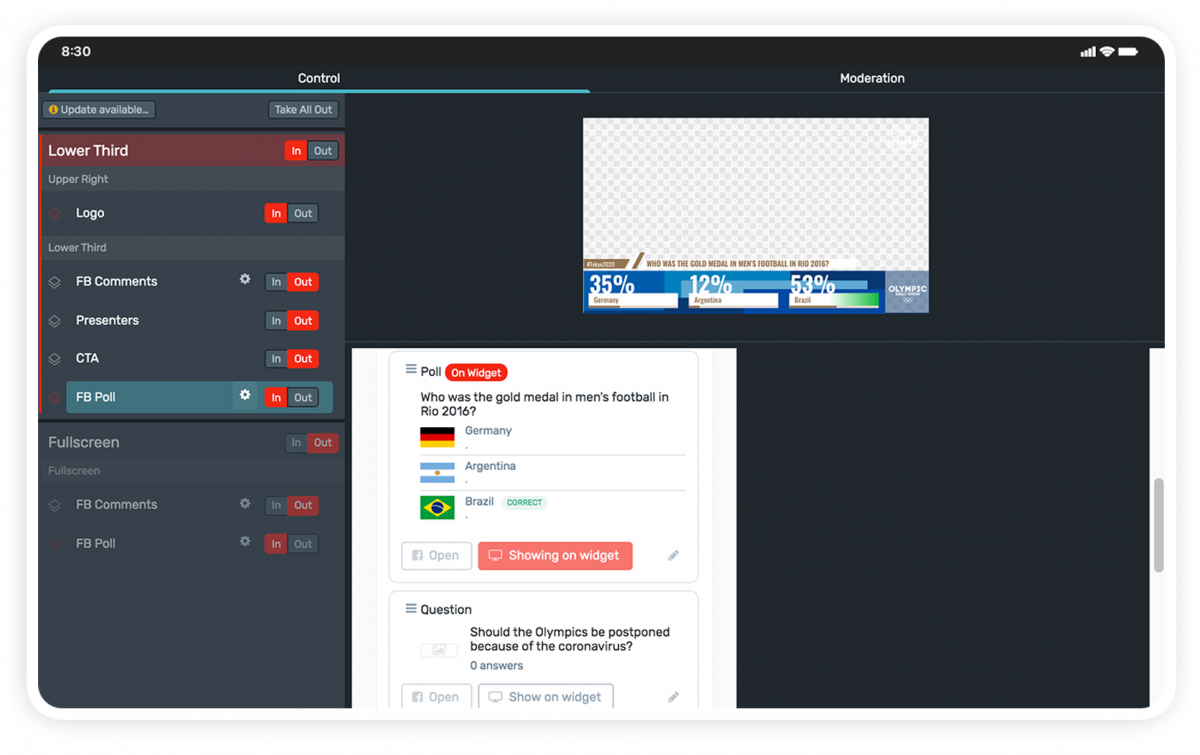 REMOTE OPERATION
Remote control application to play graphics in & out during your live production. Moderate social media content and manage viewer participation from one single unified interface.
CLOUD-BASED GRAPHICS EDITOR
GRAPHICS EDITOR
Easy-to-use web editor to create and manage your graphics package from any location and collaborate with your team.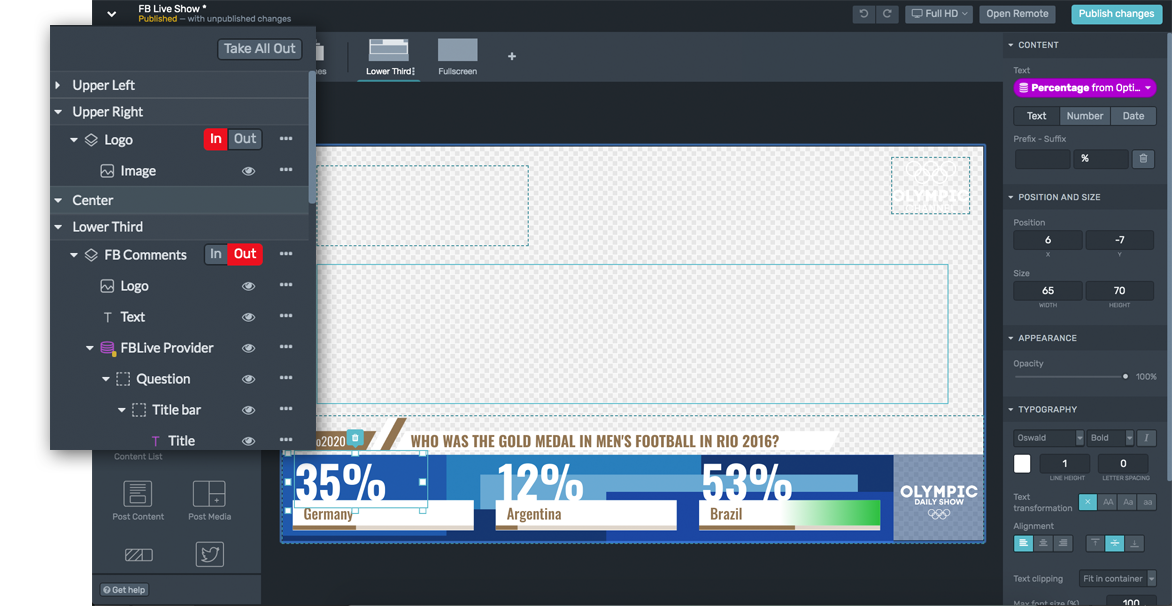 EASY CUSTOMIZATION
Easily customize fonts and backgrounds, choose transitions' styles & cycling options and edit every other visual aspect of your digital overlay or full screen graphic.
MULTIPLE CREATIVE POSSIBILITIES
Use Building Blocks for Text, Image, Progress Bars, Social Media Content to custom build any type of graphic overlay, including content from Social Media (Twitter, Facebook, Instagram, WhatsApp, Twitch, YT Live).
POLLS & QUIZZES
Engage viewers and run social polls across multiple platforms, including Twitter native polls and FB Live Polls. Create quizzes and trivias with correct and incorrect answers.
EXTERNAL DATA BINDING SUPPORT
Build graphics with dynamic third-party data (weather graphics, sports results, etc). Connect to a JSON API or Google Sheet to query external data and bind it to different graphic elements.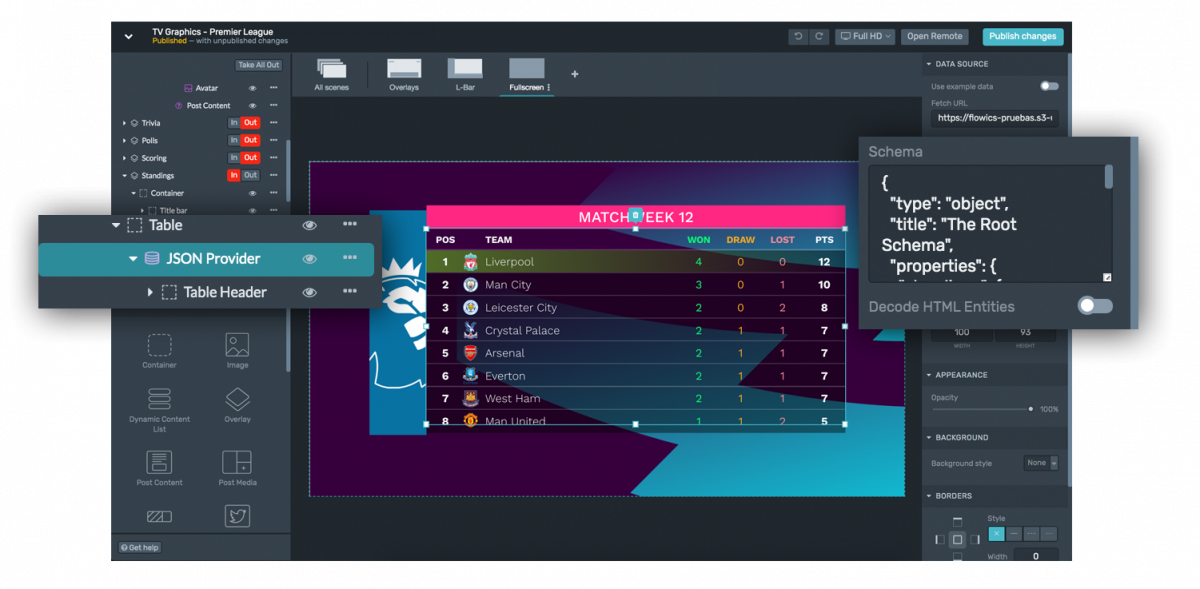 MONETIZATION
Increase your Ad inventory and create new revenue streams, by offering advertisers innovative ways to connect with their target audiences during your broadcast.
Turn your live streams on Facebook into a interactive experience with live polls and live questions.
Set up questions, collect and curate responses and easily build graphics to display answers and results with your audience.
REMOTE GRAPHICS OPERATION
REMOTE CONTROL APPLICATION
Remote control application to play graphics in and out during your live production, from any location. Manage audience participation and graphics from one single control interface.
SOCIAL MEDIA CONTENT CURATION
Moderate Social Media conversations. Approve, reject and organize content for public display. Discover content around trending events and breaking news. Run immediate searches across Twitter and Instagram. Integrate with your graphic scenes in 1 click.
LIVE STREAMING & CLOUD PRODUCTION READY
Integrate with any Live-Streaming platform (vMix, OBS, Tellyo, Grabyo, Tricaster, etc) with support for web source or NDI. Integrate with SDI workflows.

SCHEDULE A DEMO TODAY
Ready to lead the way in audience participation and remote graphics operation?